SnowPak offers Lodging and Non-Lodging products that you can fully customize at discounted prices to combine into a single hassle-free Itinerary. To see what is included in your package, please check the items listed in your Itinerary.
Below is a list of items that can be included in your Itinerary. Please note that not all items are available for all Ski Resorts. If an item does not appear in your Itinerary, it is not included in your package.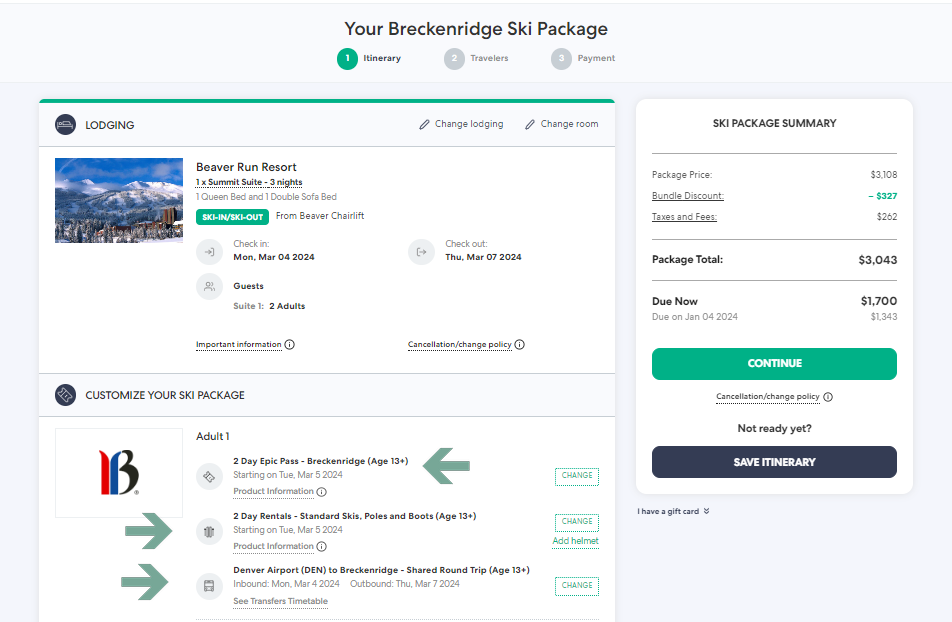 Lodging
We offer a wide range of Lodging and Hotels at your favorite Ski Resorts around the world at discounted prices.
Non-Lodging
Lift Tickets
Lift Tickets are a quintessential element of any ski trip. It gives you access to chairlifts which take you up the mountain so that you can ski down the slopes. We are able to provide Lift Tickets at discounted prices when you book your Lodging with us.
Equipment Rentals
We have partnerships with Rental Stores around the world to offer you the best rates on an extensive range of Rental Products perfect for beginners hitting the bunny slopes, right through to Experts keen to hit the park or tackle diamond runs. All of our Rental Locations also offer Junior Packages for children.
Airport Transfers
Our partnerships allow us to provide round trip Airport Transfers. Most Airport Transfers offered by SnowPak will deliver guests directly to the Lodging linked to their Itinerary.
Insurance
We can provide travel insurance through AIG Travel Guard, which insures unforeseen circumstances on your trip that you book through us at SnowPak. This covers any products that you have included in your package such as Lodging, Lift Tickets, Rentals and Transfers. Currently, it is only available to residents of the U.S. Please click here for more details.
Unfortunately, at this time we are unable to provide flights.
To include Non-Lodging products in your booking, make sure to tick the appropriate boxes when making your search. Insurance is available for purchase at the checkout for US residents only.

After searching for your desired Ski Resort, you can see a summary of what is included in each Package here: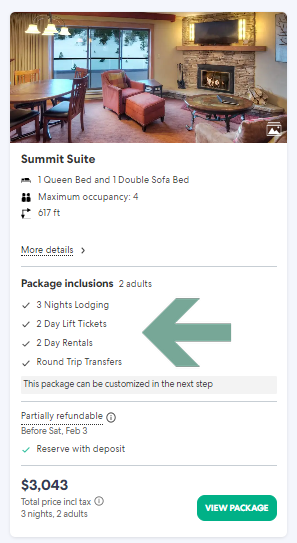 Further details on how to customize your Package are provided here.